Yippee! Events are now happening again.
Please see our programme and register by sending an email to DECB@gmx.de.
Weds 10th November 2021 Reading for Fun 7 p.m.
!!!! Register for the Christmas Dinner asap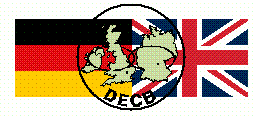 The German-English Club Bamberg was founded in 1977 in order to promote relations with Great Britain by providing information about the country through talks, lectures and visits. Furthermore the club maintains a connection for native Britons living in Bamberg to their homeland.